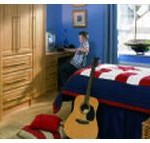 If you are searching for experts of bespoke fitted bedroom furniture in West Derby, speak to Carina Kitchens and Bedrooms.
Select the right bedroom furniture in Ormskirk to suit your style and space.
The great thing with hiring a fitted bedroom specialist in Wallasey is that you can communicate your requirements and wishes directly to the person who will be making your furniture.
You need all the space you can get in your bedroom and sliding bedroom doors in Childwall can provide much needed extra room.