When you are Looking For Fitted Bathrooms In Crosby there is a company that will meet your requirements 'perfectly' for quality, price and all round professionalism. That company is Carina Kitchens; leading the way in bespoke manufactured and designed fitted bedrooms for Merseyside and beyond. With an unsurpassed reputation, Carina Kitchens are the choice for many.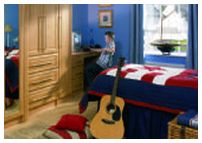 In Crosby, Carina Kitchens have made many customer's dreams come true with fitted bedrooms that exude quality. Family run, they manufacture to specific designs-using their 3D 'free planning' CAD software to create and alter bespoke kitchen designs to exactly what the customer wants-through their experienced and knowledgeable designers who can bring your vision to life.
All manufactured fitted bedrooms in Crosby are made on-site by trained and experienced craftsmen and fitters with quality assured standards adhered to. Offering an extensive range of made to measure products, Carina Kitchens offer a comprehensive service that can't be surpassed-whatever your budget. For an affordable fitted bedroom that will transform your property, call for a free consultations with the experts at Carina Kitchens-you won't be disappointed when you do!