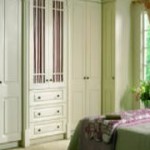 Have you thought about getting quality fitted wardrobes in Lydiate?Creating a cosy and comfortable space within your room is heaven. A dream space with a quality fitted wardrobe allows you to relax, rest and get dressed without being troubled about cramming all your clothes in a small space. Much better than buying a free standing wardrobe that takes a lot of your floor space. Installing or purchasing a wardrobe is often an issue when it comes to the size of your bedroom or storage area. Indeed, opting for someone who can help you build a quality fitted wardrobe can completely change the look of your bedroom.
In Lydiate, quality fitted wardrobes can be uniquely designed, planned and installed by Carina Kitchens and Bedrooms. This small manufacturing company has a strong background in developing original designs that are specifically created through your own requirements, and at a price that suits your pocket. If you are interested to see what your room would look like once the wardrobe is installed, it is possible through their advanced CAD system. They provide a free consultation on the door style, finish or style you may want to order, without any attached obligation. Using the expertise of Carina Kitchens and Bedrooms, you can get a well fitted built in wardrobe, get rid of the most awkward spaces and perk up the way you store your personal items at home.
For an excellent yet budget friendly service, quality fitted wardrobes in Lydiate can be a dream come rue project done by the team of designers and fitters at Carina Kitchens. Exceptionally unique compared to  their competitors, the company offers free 3D planning that help clients decide on how they want their fitted wardrobes to look and how much area would be required. They provide on-site work for built in wardrobes without the assistance of a middle man. So, if you are looking for a good quality built in wardrobe for your home, get the most reliable service from Carina Kitchens and Bedrooms at a price within your reach. For quality fitted wardrobes, contact Carina Kitchens and Bedrooms.