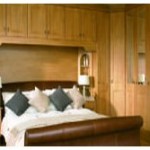 You might want to consider contacting a fitted bedroom specialist in Litherland if you're thinking about changing the appearance of your current bedroom. Carina Kitchens & Bedrooms is one of the leading bedroom and kitchen manufacturing companies in Liverpool and Bootle. They are a small, family-run operation that provides services to all areas of the North West UK. Throughout the years, they have developed a large roster of satisfied customers who have provided many client recommendations. Customer satisfaction is the main driving force behind Carina Kitchens & Bedrooms. They place great value on their customers' satisfaction. Their philosophy is to create beautiful living areas that reflect their clients' tastes, lifestyles and personalities. Every client is given a personalized service by their dedicated bedroom designers. What services can they provide for you?
In Litherland, fitted bedroom specialist is available at Carina Kitchen and Bedrooms. If designing maximum storage space in the bedroom is your concern, then let these experts provide you with a customized 3d bedroom plan. This plan will provide you with a clear idea of your bedroom's design and especially where to place your wardrobes. A 3d plan is ideal for bedrooms that have awkward designs or space limitations. Whether you're after a complete bedroom, closets, room makeover, home study or fitted shelves, Carina Kitchens and Bedrooms can provide you with the results you desire. Their knowledgeable staff will work tirelessly to ensure your vision becomes a reality.
If you're looking for unique bedroom designs, contact the fitted bedroom specialist in Litherland, Carina Kitchens & Bedrooms. Why choose Carina? They are one of the few companies who manufacture products on site in their factory, therefore cutting out the middle man and their costs. Their service is made-to measure for your requirements. They have many designs such as Ashford-Celtic Birch, Auckland-Winchester Oak, Melbourne-Pippy Oak and Paris-Loire Ash. You can also benefit from their free design and planning services as well as free estimates. To find a fitted bedroom specialist, contact Carina Kitchens and Bedrooms.