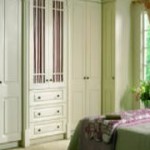 Fitted bedroom wardrobes in Sefton are a popular choice as they provide an excellent storage solution in a bedroom. A bedroom is a place to rest and recuperate for the next day's events and when things are strewn around the room because they don't have a place to be stored, peace, tranquility and refreshment cannot be achieved. Carina Kitchens & Bedrooms, based in Liverpool, is a family run manufacturing company, offering their reliable services to all parts of the North West UK. Satisfied customers have contributed to the success of this flourishing business by recommending them to others. Whether you want a complete bedroom or a complete home make-over, they provide the results you are looking for.
In Sefton, fitted bedroom wardrobes are achieved with skilled and knowledgeable staff to bring your home-improvement dreams to fruition. The team pride themselves on their quality workmanship and guarantee you'll be delighted with the end results. There are so many good reasons why people looking for professionalism, style and quality choose Carina Kitchens & Bedrooms. They offer an extensive range of products, they provide a free estimate, they have a team of skilled and experienced designers and fitters, they offer a made-to-measure service and their fitted bedroom wardrobes are manufactured on site in their factory.
Fitted bedroom wardrobes in Sefton fit perfectly into your bedroom. The skilled team at Carina Kitchens & Bedroom provide a free home design consultation. This an excellent service that caters to each client's requirements and budget. With their free 3D CAD software services they are able to create and alter bespoke kitchen and bedroom designs. The Carina team can then alter designs according to their customer's requirements.
On completion, units and carcasses are then precision cut and assembled by trained and experienced craftsmen so that every nook and cranny is taken care of in the most expert way. For professional and affordable fitted bedroom wardrobes, contact Carina Kitchens & Bedrooms.