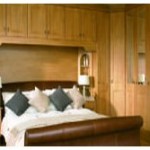 Consider bespoke fitted bedroom furniture in Litherland when you love the house, but your furniture won't fit.
There is a lot of wasted space in a room furnished with standard dressers and chests. They take up a lot of floor space so it is hard to move around. Meanwhile, wall space, corners and sloped ceiling areas are not utilised and windows are blocked with free standing furnishings. Custom fitted built-in cupboards and drawers will give you the storage you need while leaving uncluttered floor space and windows. The thing about small spaces is they look untidy if one or two things are out of place. When your furnishings are too large for the room to begin with and you add a bookcase here and a laundry hamper there, the room always looks cluttered.
Carina Kitchens and Bedrooms can turn your small bedroom into a comfortable space. In Litherland, bespoke fitted bedroom furniture by Carina is built to fit around windows, doors and beds. Beginning with your headboard and working out and up, the room is filled with shelving, quiet easy sliding drawers and spacious cupboards. The fittings will utilise all the wasted space in your room. You have so many colours and wood tones that can be coordinated with mirrors from which to choose. Simple window treatments and mirrored closet doors will give the room an open and spacious look. If you have a large bedroom space, you are going to love our company even more.
Before bespoke fitted bedroom furniture in Litherland is constructed, we will help you design the perfect lay out in 3-D so you can see exactly what to expect. Visit us and see the many product designs and materials available to you. Contact Carina Kitchens and Bedrooms today to find out more about our bespoke fitted bedroom furniture. The products manufactured by our company are specifically done according to your design. You can view some of our finished products and handle them so you can see and feel the quality that is built into each piece. All of our products are built to last. We have a beautiful solution for your living spaces, large or small.