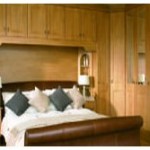 We provide fitted bedroom furniture in Childwall that are second to none. Whether you have a large space or a limited area, we will work out how to best include all the necessary items that you would need in a bedroom. We do not just supply furniture pieces but we design them according to your tastes and requirements and then install them.
For smaller bedrooms in Childwall, fitted bedroom furniture is an ideal solution for optimising the available space. An untidy bedroom causes frustration when there is insufficient space to neatly pack away clothes and accessories. If the room is an unusual design with little room for drawers and wardrobes, fitted bedroom furniture could be the answer. We design beautiful furniture that is uniquely you. If you want something that is new and unique and will fit your room without being awkward, then give us a call. We can help you by starting with a free estimate and a free designing service. As we cut out the middleman and produce our products on site, many clients agree that our prices are very competitive for the level of service and products received. We offer a 3D visual for our clients to show them how the room would look with the fitted furniture. This provides the opportunity to change or add aspects such as colour and types of doors.
Our bespoke fitted bedroom furniture in Childwall gives you the opportunity to have something that represents your lifestyle and choices. If you would like more information about fitted bedroom furniture for your bedroom, contact Carina Kitchens and Bedrooms. Other than our free home design consultation, we also work closely with our client to generate ideas that would transform their living space and turn it into a haven.