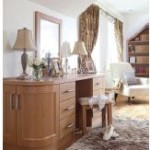 Fitted bedrooms in Litherland are stunning. Your own exclusive bespoke bedroom suite is waiting for you to design it.  We have 3D software that allows our designers to work with you to design the furniture and place it in a visual representation of the room.  It allows you to change designs and colours as well as handles and placement until you are happy and have everything you want in your new room.  We will fit the furniture in the room no matter how unusual the space may be. Our craftsmen are all eminently qualified and our materials are of the highest standard so that your new furniture is perfect.  Our standards are very high but our suites are affordable.
When you are renovating your home in Litherland, fitted bedrooms provide all the space and elegance you need. Your bedroom is the one place in the house where you can relax and recover from the stress of daily life.  You need your bedroom to be luxurious and soothing.  Fitted cupboards can maximise the storage area in your bedroom leaving it neat and tidy at all times. We utilise the entire wall space from floor to ceiling for the storage.  We also offer the option of sliding doors in rooms that may be constrained for floor space.
Fitted bedrooms in Litherland are designed to fit the room.  Contact Carina Kitchens and Bedrooms today to arrange to have your dream bedroom designed to your taste.  We take great care to measure each bedroom that is to be fitted.  We also take special note of where the doors and windows are so that your new bedroom furniture enhances the space. You do not want your windows or doors blocked by the cupboards.  Our design team will help you choose the finish of the furniture as well as the accessories like the carpet.  We manufacture all our own furniture to your unique choice, design and size. No one else will have a bedroom suite like yours.