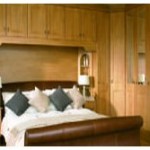 Bespoke fitted bedroom furniture in Mossley Hill is the best way to upgrade your bedroom. Do you feel like your bedroom is becoming cluttered or feeling dark and pokey? After a busy day, the bedroom is a place to escape and relax. If you have to navigate between awkward furniture just to have a lie-down, you need to do something about your bedroom. Whether you use your bedroom for dressing and your morning make-up routine, enjoy watching movies or television in bed, or just as a room for sleeping, your bedroom should offer comfort, convenience, ease of movement and attractive furnishings and decorations. A cluttered or unattractive bedroom space means you won't be able to relax and unwind as much as you should.
At Carina Kitchens and Bedrooms, we have the ultimate solution. In Mossley Hill, bespoke fitted bedroom furniture can make all the difference. Not only does our bedroom furniture look stunning, it also optimises your space effectively. We are the furniture manufacturers with a difference. We give individual attention to each of our customers and provide completely unique bespoke furniture solutions. We will visit your bedroom for a free consultation and offer solutions to transform your bedroom into the space you have always dreamed of. Our completely free planning and design service means that you can review our suggestions and designs before committing, ensuring that you get exactly what you want for your bedroom before we begin. We also offer a 3D consultation service to help you get a comprehensive visual plan for your stunning new bedroom. Once you have chosen the ideal design for your bedroom, we will manufacture the furniture and install it to top professional standards.
Our bespoke fitted bedroom furniture in Mossley Hill is made from high quality materials by our experienced craftsmen, ensuring a top quality product for a truly stylish bedroom. Having our furniture tailor made and fitted to your bedroom allows you to have more storage space as well as more floor space, with seamless furniture that fits perfectly into the room. From wall-to-wall cupboards, sliding doors and hanging shelves to bedside cabinets and walk-in wardrobes and dressing rooms, we can do it all. Contact Carina Kitchens and Bedrooms today for a free consultation to get the most stylish bespoke fitted bedroom furniture.