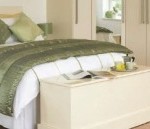 Carina Kitchens and Bedrooms is a family run company and a fitted bedroom specialist in Southport that provides beautiful and high quality bedroom fittings.We are a manufacturing company that aims at providing you with kitchen and bedroom items fitted to your desired specifications. You definitely want to feel at home and comfortable in the environment in which you live. When taking a rest in your bedroom, luxury and comfort are a huge priority. We have a large collection of bedroom items and fittings that are manufactured to meet your needs. We pride ourselves in our great reputation.
For a new bedroom in Southport, fitted bedroom specialists from Carina Kitchens and Bedrooms are well-trained and experienced in meeting customer requirements. We manufacture fittings on-site. This helps us to cut costs and gear towards offering you the most competitive and affordable prices. Any specifications that you need attended to while ordering for a particular fitting are followed to the letter. Your designs, tastes and preferences are put into the item of interest ensuring that you get what you want. Items are also made to measure, meaning that they will fit your bedroom or kitchen space perfectly. We also offer room makeovers and make preparations for lease and sale of homes.
Being a dedicated fitted bedroom specialist in Southport, we offer a wide variety of other services. Free estimates, design and planning services are also provided to customers. All products are designed and manufactured in a way that reflects your lifestyle and personality. Choosing the best bedroom furniture does not have to be a challenge to you. We will design, manufacture, supply and install fittings to meet your bedroom size and spaces. Why don't you contact us and find out how we can make improvements to your bedroom? Whether you would like a particular item or a complete room make-over, Carina Kitchens and Bedrooms has got you covered! Satisfaction and value for your money are a guarantee.