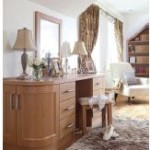 Treat yourself to bespoke fitted bedroom furniture in Aigburth from Carina Kitchens and Bedrooms. Ours is a small, local, family-run manufacturing business that helps clients to achieve big and beautiful dreams. We're based in Bootle, Liverpool and cater to customers across the North West. We're a local business, but that has never stopped us from giving our customers access to the latest designs, products, materials and technology available across international markets. We are proud of our reputation for premium quality and workmanship, affordable and sensible pricing and our 100% focus on customer satisfaction. These factors, apart from the products we make and sell, are responsible for our reputation as a reliable, honest and professional organization. Most of our business comes to us via recommendations from happy and satisfied customers.
We design, manufacture and supply premium quality kitchen and bedroom interiors keeping the price factor firmly as a base. In Aigburth, bespoke fitted bedroom furniture can help you make maximum use of the available space. At the same time, you get to find space for everything that you want and love, in sync with your needs, preferences and budget. We create unique, beautiful designs in wardrobes, with matching beds, dressing tables and accessories according to your unique specifications, in any shape or size. Bedrooms are your own private personal spaces that reflect your taste, personality and interests. Many of us escape to our bedrooms when we want a quiet moment, to rest and relax, watch TV or make a few phone calls, read a book or listen to music. Some of us enjoy a quiet meal on a tray in bed when we're in the mood. Peace and tranquillity, fun and a splash of colours, showcase for your favourite artwork are some of the other things that bedrooms mean to people.
Bespoke fitted bedroom furniture in Aigburth is a great way to deal with awkwardly shaped or sized rooms. To find out more about our bespoke fitted bedroom furniture, contact us today.  Standard, off-the-shelf products may not suit rooms with sloping roofs, alcoves, beams. This is where our talented and experienced design team can give you the right advice and assistance.