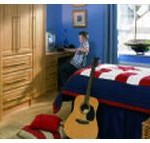 A fitted bedroom specialist in Heswall creates beautiful bedrooms. Not only are our bedroom built in cupboards, shelves, drawers, nightstands and even bed frames beautiful, they are organised. For many people, organised is the main draw. Clutter and disorganisation causes a bit of anxiety for many people. Not all people, because there are those that are blessedly oblivious to it. Are you constantly reorganising the furniture and accessories in your bedroom and cupboard? Do your efforts at bringing order and convenience always fall short? Maybe you throw or give away items you'd like to keep if you could find a place for them. You know there's a build-up of dust behind that big heavy dresser, your headboard and the overflowing bookcase. It drives you nuts but you just can't get at it to clean. 
If any of that sounds familiar, relax; Carina Kitchens and Bedrooms has the solution to your discontent. In Heswall, our fitted bedroom specialist utilises all the wall space in your bedroom from floor to ceiling. The furnishings on each wall are fitted together without gaps and useless space. That creates a lot of additional storage designed to suit specific types of belongings. You may have scarves, jewellery and small clutch purses all jammed into one large drawer. Wouldn't it be lovely if there were three smaller drawers so each item type could be sorted. Those things you don't often use but would like to keep in nice condition have a home when we redesign your fitted bedroom. Cabinets built in that wasted space between the top of your wardrobe and the ceiling is ideal for safe storage. 
As a fitted bedroom specialist in Heswall, we create custom designed and fitted furnishing for your bedroom. Choose mirrored closet doors for a more spacious look. Floor space is wide open which also feels more spacious and makes cleaning a breeze. Contact Carina Kitchen and Bedrooms for a design and installation cost estimate for your fitted bedroom. You will have many style options from which to choose, including traditional and contemporary. The finish choices include natural looking wood, the latest in paint finishes and a large selection of door handles and drawer pulls. Surround yourself with order, tranquillity and a beautiful place to keep all your stuff.