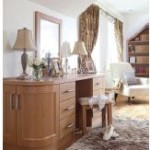 You will want to find the best fitted bedroom furniture in Southport when it comes time to furnish your bedroom to ensure that it fits perfectly into your room. This is important because many people do not get accurate measurements and they choose furniture that does not fit correctly in their bedroom. Each piece is of varying sizes or it leaves too much or too little white space. Work with a company that knows how to properly outfit a bedroom so that your room makes perfect sense. It should have the right amount of furniture and storage at the right sizes so that your bedroom flows well and looks full without being cluttered or messy.
In Southport,  fitted bedroom furniture experts can be hired from Carina Kitchens & Bedrooms.  They can ensure that your bedroom achieves the perfect look. They will help you to choose every piece and make sure that everything is the perfect size. They will create a room that perfectly suits your lifestyle and personality so that it reflects you and ensures that you are perfectly comfortable. You will have all of the amenities that you need while also having the right decorative touches that allow you to put your own spin on your space. You can have a bedroom that looks like something you would see in a magazine.
Carina Kitchens & Bedrooms ensure that you get the best fitted bedroom furniture in Southport while also being provided with the highest quality customer service. This  business enures that you will be put first throughout the entire process. The family run business knows what it takes to work with bedrooms of all sizes and styles, ensuring that you get exactly what you want and more. Once your bedroom is complete, it will be a space that you could only have dreamed was possible. They get the job done in a timely manner so that you can be sleeping in your new space before you know it. For the best fitted bedroom furniture, contact Carina Kitchens & Bedrooms.