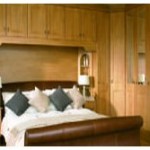 The beauty of fitted bedrooms in Speke is that you can be sure that every bit of spare space will be used so that it is useful. The creative and skilled team at Carina Kitchens & Bedrooms is constantly called upon to work their magic with bedrooms of all shapes and sizes. Situated in Bootle, Liverpool, they are a family run kitchen and bedroom manufacturing company who provide their services to all parts of the North West UK. Their aim is to leave a trail of delighted and satisfied customers in their wake.
In Speke, fitted bedrooms are about guaranteeing maximum storage space. Awkward spaces don't pose any problem with them, because with their clever ideas they make these 'difficult' spots attractive and useful. Their mission is simply to make your bedroom comfortable, beautiful and functional. The talented team of Carina Kitchens & Bedrooms works with their customers every step of the way so that all dreams and visions are reached on time, on budget and according to the wishes of clients. This is achieved because they have their own factory where their beautiful bedroom furniture is crafted. Their expert designers discuss all your bedroom furniture needs and you can choose bedroom furniture from a wide range of designs, colours, styles, accessories and materials
With fitted bedrooms in Speke, you can get fantastic ideas for your bedroom when you visit one of their 121 showrooms nationwide to see the quality and style for yourself. It is always helpful to talk to one of the expert bedroom designers to get tips and advice on how to beautify your home. With Carina's free 3D CAD software service, the skilled team creates superb bedroom designs for the customers, allowing for designs to be altered on site by their customers. For stunning fitted bedrooms, contact Carina Kitchens & Bedrooms.