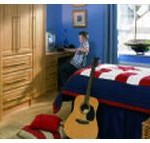 Are you looking for a local company that specialises in fitted bedrooms in Southport? Are you aware of the many benefits associated with incorporating fitted bedrooms in your home? Most modern properties will benefit from a bedroom design that includes fitted bedroom furniture. If you live in an older property and are considering modernising your home, choosing to have a fitted bedroom may be the perfect solution. It is important to choose a bedroom design that complements the existing style of your home. Thankfully, fitted bedroom furniture is available in a wide range of designs and colours. If you are finding it difficult to choose fitted bedroom furniture or are unsure as to which style would be best, contact a local company and ask for advice. You can visit specialist bedroom companies at their own premises in order to view their range. Alternatively, local companies such as Carina Kitchens & Bedrooms will send a representative to your home to discuss your needs.
In Southport, fitted bedrooms are installed by skilled tradesmen who understand the importance of completing the whole process in a skilled and professional manner. A fitted bedroom can be a major investment so it is important to have the project completed by a reputable bedroom company. So what are the benefits associated with incorporating a fitted bedroom in your home? Firstly, if space is at premium, fitted furniture can help to maximise floor space. Typically, fitted bedroom furniture can be custom made. If your bedroom is irregular in shape, furniture can be manufactured to ensure that it fits perfectly without using up too much space. Fitted furniture is designed to fit closely to walls which means that there is more floor space for other items.
Another benefit associated with fitted bedrooms in Southport concerns improving the appearance of the room. Fitted furniture is elegant in design and helps to improve the aesthetics of the room. In addition to improved levels of relaxation and enjoyment, a fitted bedroom can also help to increase the value of your property. For more information about fitted bedrooms, contact Carina Kitchens & Bedrooms.