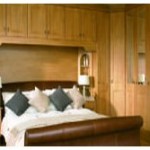 Hire a fitted bedroom specialist in Aigburth when you want a completely new look in your home. Your bedroom is your escape from the problems of the world. Having a luxurious place to lay your head at night is something everyone needs. You can get that bedroom from a fitted bedroom, for a lot less than if you did a customised remodeling project. Fitted bedrooms are beautiful, affordable and quick and easy to have installed. You can go to a showroom of a fitted bedroom specialist and look around until you find something that completely fits your taste. There are many designs available. You can find bedrooms with special features, including sliding glass doors.
In Aigburth, fitted bedroom specialist services are available at Carina Kitchens & Bedrooms. The have experienced designers who will help you maximise your storage space and reduce the clutter in your home. They will help you select a fitted bedroom that works perfectly you. They will do measurements to help you select the style that will work well in the space you have available. You can select the colours and style that you like. The price you pay for your new bedroom will be more affordable than you think. Installation is quick and easy. It can be done sometimes within one day. They pride themselves on provide first class customer service and workmanship. You deserve a beautiful bedroom.
A fitted bedroom specialist in Aigburth will come to your home to see the space you have to work with. They will give you honest and professional advice on what you can do with the area. Rest assured though, that no matter what space you have available, your final result with be breath taking. If you are interested in finding a fitted bedroom specialist, contact Carina Kitchens & Bedrooms.