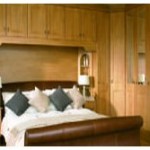 Are you looking for more information about fitted bedroom furniture in Mossely Hill as you want to give your bedroom a brand new look? Well coordinated and designed bedrooms fulfill your design and functionality needs in the best possible way. We all love to have modern conveniences with an added touch that reveals our personality and gives character to this very private space in our homes. It should be a place for relaxation, calmness and where we feel most at home. Fitted bedroom furniture provides that put-together look without compromising on your aesthetic preferences. You can remodel your bedroom space with bespoke fitted furniture that is based on a theme, with a great choice of options ranging from sleek contemporary looks, stylish and minimalistic, classic and opulent, antique, art deco, colourful kids' themes, edgy young adult or teenager themes to suit your preferences. If you've collected art and artifacts from different parts of the world, your fitted bedroom furniture can be designed around your favorite pieces.
In Mossley Hill, fitted bedroom furniture is available from a number of top-quality design firms, furniture companies and bespoke furniture craftspeople. Well-established and reputed companies like Carina Kitchens and Bedrooms. Such firms offer the best advantages of being small family-run businesses along with excellent professional services that include design, supply and installation of fitted bedroom furniture. Another plus point in entrusting your bedroom makeover to such companies is that you get personalised service and made-to-order items which are extremely cost-effective since they cut out the middle-man or retailer. They also offer free estimates and design services along with state-of-the-art presentations like 3D visualisation. Additionally, they also offer to supply and install home furnishings that would take your theme forward. Local firms are ideal if you want local or ethnic themes to match your design tastes.
When selecting a firm to supply fitted bedroom furniture in Mossley Hill, select an experienced company that employs professionally trained staff, with proper licenses and insurance. Another important factor to compare costs and services across several firms before making your final choice. Ensure that the firm offers work and materials guarantees and after-sales services too. For more information about fitted bedroom furniture, contact Carina Kitchens and Bedrooms.