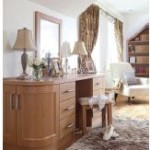 Looking for stunning new bedroom furniture in Kirkby? Carina Kitchens and Bedrooms are furniture manufacturers with a difference. As a small, family-run business they give individual, exclusive attention to every customer and every job. Whether you want to try something new and spice up your bedroom, have just moved in and can't wait to make the room your own, or need to prepare a house or apartment for lease or sale and want to maximise its value, Carina Kitchens and Bedrooms can transform any room into an attractive, creative space.
In Kirkby, bedroom furniture should be fitted and tailored to your individual bedroom's dimensions. Why buy retail furniture that fits awkwardly into your room when Carina Kitchens and Bedrooms can design and install your very own bedroom furniture? No matter how many awkward corners, sloping ceilings or curved walls you have, Carina Kitchens and Bathrooms can design their furniture pieces to fit any space as comfortably and snuggly as can be. What's more, they offer a free estimating service as well as a free planning and design service, so you can make sure your bedroom will look exactly the way you want before any commitments or construction has begun. Make use of their 3D planning consultation to get a clear and comprehensive idea of what your stunning new bedroom will look like.
Carina Kitchens and Bedrooms are a great source of bedroom furniture in Kirkby. With their on-site manufacturing facilities, they can ensure that you get the fastest, most efficient and reliable service available. From wardrobes to ottomans to headboards, you can completely redesign your bedroom with Carina's range of bespoke, made-to-measure furniture. Their craftsmen are trained and qualified to assemble and install your furniture so that you don't have to. You will be amazed at the quality and attractiveness of their furniture and designs, as well as their friendly and reliable service and advice. Transform your bedroom today with Carina Kitchens and Bedrooms. Contact Carina Kitchens and Bedrooms for more information about bedroom furniture.