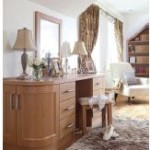 Relaxing with comfortable bedroom furniture in Wallasey is a perfect way to remove the pressures of the day. Most people don't know where to start when it comes to decorating their bedrooms. They wonder what colours and style will suit the room best. Of course, an important consideration with bedroom decor is always durability and affordability. Carina Kitchens & Bedrooms are based in Liverpool and are a family run manufacturing company extending their services to all parts of the North West. Customer satisfaction is what has made Carina so sought after and they have a reputation of excellence and affordability that you won't easily find elsewhere.
In Wallasey, bedroom furniture by Carina Kitchens & Bedrooms offers everything you want – style, attractiveness, and comfort. Carina Kitchens & Bedrooms can design, supply and install bedroom furniture that will meet every requirement you have. They have skilled staff who work with you every step of the way to bring your ideas to fruition. They offer a free planning and design service and will offer you a free estimate and 3D visuals so you know exactly what's coming your way. They have a large product range, allowing you to take full advantage of their comprehensive offerings to guarantee a look that has your personal stamp on it. There are so many perks to getting this talented team in, and with their amazing workmanship, you'll be totally satisfied with your new bedroom furniture.
Bedroom furniture in Wallasey always makes sure you benefit from more space. Carina Kitchens & Bedrooms are aware that space is always an issue and they create a greater sense of space, even with smaller homes and apartments. Clients may have distinct needs, and Carina offers a treasure store of ideas. Their specialised experts provide their clients with logical reasons for making use of them and when you rope them in, you'll quickly discover why they are so in demand. For stylish bedroom furniture, contact Carina Kitchens & Bedrooms.