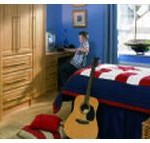 When considering fitted bedroom wardrobes in Chester, the concept might seem so overwhelming that you don't know where to begin. Almost like facing the task of de-cluttering and finding place for all the things that somehow have crept into nooks and crannies all over your home. Have you contemplated that a new set of cupboards to maximise your space might be the exact solution that you need to solve all your clutter worries? Carina Kitchens and Bedrooms have the perfect solution. Their number one priority is your satisfaction. Ensuring the process is as swift and as painless as possible, they will help you regain your dream home.
In Chester, fitted bedroom wardrobes are designed and built to fit your space to ensure you get the final result you are looking for. With so many designs and styles to choose from you are sure to get the result you are looking for. To assist you in the decision-making process, Carina kitchens and Bedrooms offer 2 amazing free services. The first is a free, no obligation home design consultation. The second is a free 3D planning of your design so you can see the final result in the space and make sure that you will be happy with the final look and functionality of your newly revamped room. Manufacturing and precision crafting all the units in their factory allow for greater customisation and control, ensuring that exactly what your home needs, it gets.
Carina Kitchens and Bedrooms offer more than just kitchen cupboards and fitted bedroom wardrobes in Chester. They offer a bespoke planning and design service which includes made to measure furniture. This means any unused or awkward spaces can be redesigned any way that suits your home and needs, and the cupboards or furniture you want for that space made exactly to fit. Offering you the best-personalised service, with qualified and experienced staff at competitive prices, they really are worth a try. Contact them today for your no obligation free design and see how they bring your dream to reality. For more information about fitted bedroom wardrobes, contact Carina Kitchens and Bedrooms.