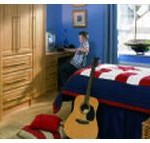 Fitted wardrobes in Speke can transform any bedroom. Your bedroom should be a place where you can retreat from the chaos of the day. An ideal bedroom is one that is a calm, serene, uncluttered space where you can rest and rejuvenate. The reality often, however, is that all types of clutter end up in the bedroom. It could be the clean laundry that never seems to get ironed but sits in the corner. Perhaps there is a pile of books beside your bed that never seems to get read? Maybe you are one of those who scoops up all the clutter in the living room and dumps it in the bedroom when guests come over? You don't have to settle for this.  There is a solution!
In Speke, fitted wardrobes can be designed to meet your requirements by Carina Kitchens and Bedrooms. Their experienced designers can design your cupboards in such a way that storage space is maximised. The cupboards can be made to use the full height of the room, from ceiling to floor. This ensures that there is no dead space that cannot be used. You could go from having nowhere to put everything to having beautifully fitted cupboards that help you organise your home.
Carina Kitchens and Bedrooms can design fitted wardrobes in Speke that will enhance any home. You can choose the style of cupboard according to your taste and one that matches the character of your home. There is an extensive range of options to choose from, and there is sure to be the perfect one for you. You could be surprised to discover how affordable it is to fit wardrobes when you use Carina Kitchens and Bedrooms. The finished product is done to the highest of standards and looks so good that you would expect to pay much more. This professional team will guide you through the whole process. Let your bedroom be your favourite room in the house; the one that reflects your personality best and where you can rest. Contact Carina Kitchens and Bedrooms for more information about fitted wardrobes.