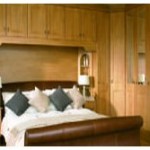 The front door may well be the first door to be seen, but replacement bedroom doors in West Derby are also important for damaged, dirty or broken doors. If your home is for sale or you're looking for a new home, strong, attractive doors throughout the entire home are imperative. Carina Kitchens & Bedrooms is a family run manufacturing company situated in Bootle. Their services extend to all parts of the North West. Their skill and knowledge about doors and cupboards mean they are able to deliver the results their customers want. Their staff pride themselves on their superb workmanship, their excellent tailored services and their affordable, competitive prices. Carina is made up of an experienced team of designers and fitters who offer an accurate made-to-measure service.
In West Derby, replacement bedroom doors are manufactured on site in the factory. This is of benefit to Carina Kitchens & Bedrooms customers as it means that middle-man costs are eliminated. Kitchen and bedroom carcasses are manufactured in the factory where they are precision cut and assembled by their experienced craftsmen. Carina offers an extensive range of door styles and finishes tailored to your bedroom door requirements. They simply want your bedroom to feel safe and secure with beautiful doors that enhance your home.
Replacement bedroom doors in West Derby are always exactly as you want them. Carina Kitchens & Bedrooms provide customers with a free home design consultation. This is so they can provide customers with doors that are within their requirements and their budget. They offer a free 3D CAD software service which means they can create and alter any design in accordance with the wishes of their customers. Entrance doors or cupboard doors – they need to be functional and they need to be beautiful, and Carina Kitchens & Bedrooms are there for you when you want to improve your home. Contact Carina Kitchens & Bedrooms for more information on replacement bedroom doors.