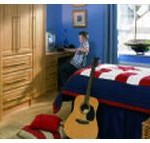 Look for beautiful bedroom furniture in Walton for a relaxing and comfortable bedroom. Your bedroom can be regarded as your haven, the place to where you retreat for privacy and rest. A good night sleep refreshes and energises and prepare the body for the day work. Well-made and attractive looking bedroom furniture can add to comfort of your bedroom. When you're surrounded by beauty, you are more calm, more rested. If you are interested in comfortable bedroom furniture, Carina Kitchens and Bedrooms is the company to speak to. They're a small, family run manufacturing company based in Liverpool. Their services extend to all parts of the North West. The success of the company and the satisfaction of their clients can be attributed to their excellent workmanship and attention to detail.
Carina Kitchens & Bedrooms can design, supply and install furniture for any room in your home. In Walton, bedroom furniture by this professional company is carefully planned and precisely manufactured. All their beautiful furniture is manufactured on site. This means that middle man costs are removed. They will provide a free estimate for the furniture they will design and manufacture for you. You could choose from their extensive range of bedroom furniture, or, if you prefer, you can make use of their made to measure service. If there is a piece of bedroom furniture that you have in mind, speak to their talented team of designers and fitters, and let them create the perfect piece of bedroom furniture for you.
Choose new, comfortable and beautifully made bedroom furniture in Walton for your home. Contact Carina Kitchens and Bedrooms today to find out more about bedroom furniture. Their designers and fitters work to high standards, and will provide affordable and beautiful bedroom furniture. They have earned an enviable reputation for excellent quality and superior service.