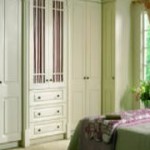 If you want to add elegance while saving space in your home, sliding wardrobes in Litherland can help you get the job done. They can help keep your bedroom warmer during the winters, helping you to reduce your heating bill. They are also great for blocking out loud noises from one room to another. Mirrored doors reflect their surroundings and make your bedroom appear a lot larger than it actually is. They come with safety features as well and give your room a unique aesthetic appeal that allows you to truly enjoy your space to the fullest. You will likely find that a sliding wardrobe will be cost efficient as well.
Upgrading the appearance of your bedroom will increase the value of your home in addition to enjoyment it provides. In Litherland, sliding wardrobes are expertly provided by Carin Kitchens & Bedrooms. We are a small, family-owned and operated manufacturing company, providing products and services to all parts of the North West. Our business has grown mainly by referrals from satisfied clients and we trust you will be satisfied with our service to you. We offer excellent quality fitted kitchens and bedrooms that you will be pleased with. Customer satisfaction is our key to success. We can free up space in your bedroom with fitted wardrobes that will meet your specific needs. Our goal is to create beautiful living spaces that show your impeccable tastes. We offer competitive prices as well, so you can rest assured that you will get a good value for the money.
Sliding wardrobes in Litherland will upgrade your personal space in ways you never imagined. Contact Carina Kitchens & Bedrooms if you are interested in sliding wardrobes. We will schedule a time to show you a 3-D sample of what to expect. We provide free estimates and a made-to-measure service.