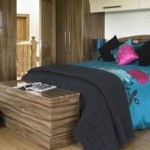 With bespoke fitted bedroom furniture in Kirby, you may make that small bedroom work. At Carina Kitchens and Bedrooms we are masters at finding space you didn't know was there. People do all sorts of of things to make small spaces work. They settle for a smaller bed, hang bookshelves on the wall and suspend T.V.'s from the ceiling. It's a trick to cram clothing from a 5 drawer wardrobe into compartments suspended like a chain from a closet rod. Sometimes people remodel the room and eliminate the windows so they have more wall space for furnishings. That is extreme action and we think likely unnecessary.
Carina Kitchens and Bedrooms may make the room work for you without cutting off natural light and storing clothing in a laundry basket. For bedrooms large and small in Kirby, our bespoke fitted bedroom furniture offers more floor space and more storage than free standing bulky furniture. It fits from floor to ceiling and along all the walls between windows and doors. Where ceilings are high enough, there is often space for built-ins above and below windows. If you have an odd slant where the wall joins the ceiling, Carina Kitchens and Bedrooms can fit the bedroom cabinetry perfectly. Using mirrored doors opens up the room even more giving it a spacious look and serving the usual function of mirrors without taking up space.
Once you see the designs and beautifully finished timber we use for bespoke fitted bedroom furniture in Kirby, you will be amazed at the quality. Our furniture has substance and durability that is handcrafted in our own shop. You will know when you visit our showroom that our prices are fair. Contact Carina Kitchens and Bedrooms for design ideas and estimates for your bespoke bedroom furniture. Imagine being surrounded by gorgeous furniture with graceful hardware designed to hold your wardrobe, books and knick knacks. The centre floor space is open and free of awkward furniture and windows are open to the world.