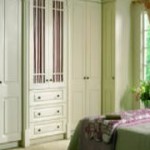 Give your bedrooms that wow factor with fitted wardrobes in Southport. Carina Kitchens & Bedrooms is a small, family-run business that specialises in design, manufacture and installation of bedrooms and kitchens. Though we're based in Bootle, Liverpool, our customer base extends across all parts of the North West. Our delighted customers are our best advertisement, and we get almost all our work from personal recommendations. The foundation of our business consists of excellent workmanship, bespoke design, cost effective solutions  and a thoroughly customer-centric approach. No matter how big or small your project, we provide the same degree of excellence, dedication, quality and affordability. Whether you have a large or small space available, we plan your storage and wardrobes to make maximum use of the area.
If you have an awkward shaped room, our trained and talented design team offers the perfect solution. In Southport, fitted wardrobes can be of any size, shape, colour or design. Your imagination is the only limit! Fitted wardrobes are neat and give your interiors a classy, elegant look. Some clients would like a complete makeover for their rooms, or they want to refurbish their existing storage space. They may need to get the property ready for sale, rental or lease. Our staff can help you achieve exactly the kind of results you want, without the stress of planning, shopping for the right materials, ensuring that your design is executed and fitted properly.
What you are likely to want are fitted wardrobes in Southport that are functional, affordable, durable and good-looking. If you live in an older, larger home, the traditional style would have been a walk-in dressing room, with free-standing cupboards, shelves, and dresser. However, today, space is at a premium and people tend to move around much more. While creating your design, you have to consider whether you need more hanger-space, shelves, or drawers. You can decide the storage configuration according to your needs, both present and future. If you would like more information about selection of fitted wardrobes, contact Carina Kitchens & Bedrooms. We help you transform plans and ideas into reality, using the colours, textures and finishes that you want.