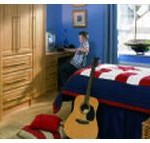 If you are searching for experts of bespoke fitted bedroom furniture in West Derby, speak to Carina Kitchens and Bedrooms. We are the ones to call when you need to make a 12' X 12' room work for two children to share. Ordinarily, you would constantly have a chaotic mess. To avoid that and bring reasonable order to the space, they need a place to put their stuff. We would build in their separate beds with separate cupboards and storage drawers for each child's belongings. Shelving and storage chests can fit in small areas and under windows providing useful and personal space. From the bedframe to the ceiling is room to display their treasures and books. Infrequently used items can go high and everyday things go low. We'd want to preserve as much floor space for games as possible. We have a large selection of cabinetry and closets in sturdy finishes that will last through their growing up years.
Making small spaces work for children may not be your reason for calling us. Your bedroom may be large enough for your needs but in West Derby, bespoke fitted bedroom furniture would bring order and efficiency to the room. We know that some people cannot abide clutter. Clutter causes anxiety in some people and order brings peace. It could be that the necessity of searching for an item is as irritating as a grain of sand in the eye. They don't want to dig through a laundry basket to get dressed and search overflowing drawers for that one accessory. They do not eat breakfast while searching for glasses and keys.
We have gorgeous modern and traditional styles of bespoke fitted bedroom furniture in West Derby. Any of it can be customised specifically to your space. Contact us and let us give you a free design and estimate of cost to turn your bedroom into the haven it is meant to be. Choose from oak, cherry or walnut in a natural or high gloss painted veneer. Full wall sliding mirror doors or smaller separate closets. Call for your free consultation and you will see how, by customising, we make use of inch of space. There's a place for everything and the additional benefit of being an easy room to clean and keep clean.