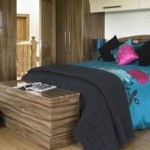 Fitted bedroom furniture in Walton is a perfect solution for children and teen bedrooms. It seems that parents always get the largest bedroom in the house and the youngest child gets the smallest. Yet, kids have more stuff and spend more time in their bedroom. Kids look around their room, and they don't see what you see. Their clothes and shoes cover the floor along with toys, video gaming and computer equipment, papers and books. Before you tell them to clean it all up, take a hard look at their storage options. There is one bed, one dresser, a desk and chair and a small cupboard. Useless floor space surrounds each item of furniture and that's where all the debris lands. There is cupboard and drawer space to hold most of their clothes but no room for anything else.
Carina Kitchens and Bedrooms is our family owned company dedicated to utilising every square foot of space in your bedroom, kitchen or office efficiently. In Walton, fitted bedroom furniture is as beautiful as it is efficient. We offer a huge selection of designs, colours and woods to please most all customers. Our team manufactures our fitted furnishings in our own factory to fit your space. We use all your space, floor to ceiling and around windows and doors. We build in closets, drawers and shelving to utilise every inch of wall space. The bed headboard can be built in as well with attached nightstands and bookcases. A desk or work top is built in for homework, Lego building and video gaming with plenty of storage at hand
With fitted bedroom furniture in Walton, the kids can clean their room because now there is someplace to put everything. Dust isn't hiding in impossible to reach areas because the built ins have no gaps. The open floor space makes the room feel more spacious and there is no furniture blocking windows. Contact Carina Kitchens and Bedrooms and our design team will measure your space and design fitted furniture of your choice. We can show you in 3D exactly how the room will be laid out. We will then present you with a no obligation quote for the materials and labour. We build quality into all of our fitted bedrooms. Your satisfaction is guaranteed.