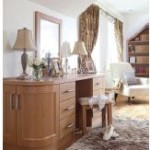 Carina Kitchens and Bedrooms build bespoke fitted bedroom furniture in Childwall that will open up your living space. Some people view their bedroom as a place to sleep and change clothes; nothing more. They don't need much space, furnishings matter little aside from a comfy mattress and they are oblivious to neatness. For those of you who see things differently there is bespoke fitted bedroom furniture. We'll assess the space you have available and make the very most of it. Cupboards, shelving, headboards and nightstands are built into the room with efficiency. They create an organised room with beautiful furnishings that is functional as well as restful. Every square inch is utilised to the fullest to maximise storage.
Some of you view your bedroom as a private retreat where your world is orderly and pleasing to the eye. In Childwall, bespoke fitted bedroom furniture brings order to your life. You can store all your belongings where they are easily accessible. The room is easy to clean because you don't have to twist and bend to get under and around free standing furniture. However, because everything is built in, you might now have space for that comfortable reading chair. Space is used from floor to ceiling and around windows, so you don't have to block the natural light. Choose mirrored closet doors and the room will feel even more spacious.
When we build bespoke fitted bedroom furniture in Childwall, we are building quality into your home. Our joiners and fitters are highly skilled and use materials that are durable. Our furniture designers have produced some of the most beautiful products to suit almost anyone's taste for beauty and functionality. Choose from natural timber products, fashionable paint colours, and combinations that suit you. You can also choose from a wide selection of drawer and cupboard door furnishings. Perhaps pick shelving instead of drawers in some areas to display your ornaments or use as a bookcase. Contact Carina Kitchen and Bedrooms for an onsite 3D design and cost estimate. You are going to love spending time in your new bedroom. Now you can find a place for everything.