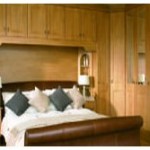 Fitted bedroom furniture in Aigburth is an excellent alternative to the usual way of furnishing a bedroom. Usually, people go shopping through the stores looking for nice looking furniture that will fit in their bedroom. When they finally find furniture they think looks nice, fits their space and fits their budget, they buy it. The fact that it does not provide enough storage isn't even considered. Maybe they'd like to have another chest and a bigger mirror but there's no more room. They are just going to cram their stuff in and make it fit and maybe add another shelf high up in the closet. If you've been living that way then you know that under those circumstances you can never find the item of clothing that you are looking for.
Your new furniture likely crowds the space you have so it's inevitable that scratches and dings are going to start showing up as regularly as you vacuum. In Aigburth, fitted bedroom furniture is that promised excellent alternative. Beautiful custom built and fitted bedroom furnishings will provide more storage and more floor space. The design, building and fitting is all carried out by our own in house employees. There are so many designs from which to choose. Our designs will please your sense of style whether it's traditional, ultra-modern or contemporary. The finish is natural wood tones, soft elegant paint colours or abstract high gloss designs.
We utilise every bit of space possible. Cupboards and drawers are built from floor to ceiling. There are no gaps because the units will be custom fitted to your space. That is so much better than trying to fit your space around furniture. The only thing taking up floor space is the bed but even that can be fitted with attached nightstands and bookcases. The room is functional, beautiful and easy to clean. If clutter makes you irritable, as is true of some, this is the bedroom for you. Do you love big mirrors? Each cupboard door can be a huge mirror. Contact Carina Kitchens and Bedrooms for a free consultation and price quote. You will see what great value for money we offer. This is especially true when you consider it's the most functional way to furnish your bedroom.