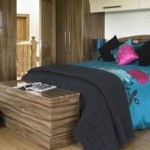 Bespoke fitted bedroom furniture in Kirkby is worth considering if your bedroom looks a bit dated and worn. The bedroom is a place you can escape to after a long hard day to relax and rejuvenate. If the furniture that is in your bedroom is old, or just doesn't fit properly, it may be time to change your old furniture with new. With new, cleverly designed furniture that maximises the use of the available space, you will have a new oasis to retire to each evening. An update will also increase the value of your home. Our bespoke service means that you can have furniture designed to your specifications and design requirements. It doesn't matter how large or small your space is, you can have your room suited to your tastes.
If you need a bedroom makeover in Kirkby, bespoke fitted bedroom furniture is available from Carina Kitchens and Bedrooms. We have a team of experienced designers who will help you maximise storage options in order to reduce clutter. A variety of doors are available, and these include sliding glass doors. Our company has grown mainly from referrals from satisfied clients, so you can rest assured that you are in the hands of a highly qualified team. Customer satisfaction is our primary goal and this goal has ensured that we are a success at what we do. We guarantee that you will be satisfied with the final result. For a free design consultation, why not give us a ring? We will work within your budget to help give you a beautiful place to lay your head at night.
For bespoke fitted bedroom furniture in Kirkby, our designer will work with you to design a place that is your special getaway. You will be very pleased with our high quality and high standards. For more details about our bespoke fitted bedroom furniture, contact us today. All our furniture is manufactured on site in our factory and this helps keep costs down. While designing your new bedroom we will provide 3D visuals so your specifications are met exactly.